Applying for Council housing
How to fill in your application
Starting a Housing Application
If you already have a Self Service Account login - opens in a new window, you can reset your password if necessary just below the password box
If you don't have a Self Service Account, see Creating a Self Service Account below
Creating a Self Service Account
To create a Self Service Account you will need an email address. If you don't have an email address you can get one from Google - opens in a new window.
You can create a Self Service Account here - opens in a new window.
---
Filling in your application
***Read the important information below then complete your application***
Once logged into your Self Service Account, click on the Services tab if you're using a computer or click on Home then Services if using a phone or tablet. See examples below.
Click on 'Housing Application' from the list provided and complete your application. You don't have to complete the application in 1 go; you can SAVE* at any time and come back to complete it later.
View on a computer

View on a smartphone or tablet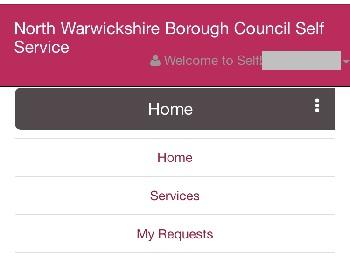 ---
Evidence and proof
You may be asked to upload evidence (photograph or scan) to support your application, such as:
Passport
Driving licence
Birth Certificates
National Insurance Number
Benefits letters
Child Benefit letter
Wage slips
Employment contracts
Bank statements
Gas, electric or water bill
Council Tax bill
Doctor or hospital letters
10 year address history including landlord or housing association contact details etc.
Immigration status, if applicable
Local connection details
Uploading evidence
You can upload images whose name ends in .gif .jpeg .jpg .jpe .pdf, .png, .docx. Screenshots are acceptable.
You can photograph evidence such as birth certificates, passports and driving licences etc. or for evidence like bank statements you can download them and Upload them into the form.
If your phone or tablet asks you what file size to use, choose Medium please.
If you do not have a way of photographing your evidence, you can come to the Council House in Atherstone where there is a Tablet you can use. You will need to login to your account as normal, go to the page where the evidence is needed, click 'Upload......', place your evidence under the Tablet until it's in focus and follow the instructions.
Warning, very important!
Only upload the evidence we have requested.
We WILL NOT process your application until ALL the CORRECT evidence requested has be received.
Supplying INCORRECT EVIDENCE WILL DELAY the processing of your application.
---
*Completing a SAVED application
Login to your Self Service Account You can reset your password if necessary
Click on 'My Requests'
Click on green 'Continue' button to carry on with your application
---
Trouble Shooting
I can't Submit my application
You will not be able to Submit (send) us your application until you have completed every mandatory question and uploaded all the evidence we need. A mandatory question is a question that MUST be answered and has a * next to it. ALL TABS/PAGE NAMES need to be GREEN, this indicates the form is complete. If you have a tab/page name that is RED it means something needs completing on that page,
In the example below, Home Location, About this Application and Agreement are GREEN and have all been completed correctly, but Applicant Details is RED so needs completing. National Insurance, BLUE, is the page you're currently completing and Tenancy and Criminal Convictions and Complaints, BLACK, has not been looked at yet.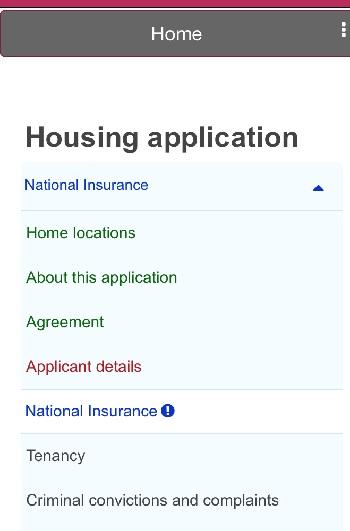 To return to a RED page to complete it, simply click on the RED page name.
Last updated Thursday, 2nd February 2023
Was this information useful?