Atherstone town
Annual Shrove Tuesday Ball Game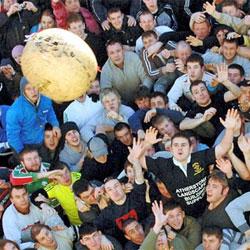 Atherstone is still famous for its annual ' Atherstone Ball Game ', which has been played since the 12th century and celebrated its 800th anniversary in 1999.
This traditional football game is played every Shrove Tuesday afternoon through the main shopping streets of the town.
The 'ball' used is specially made each year and is usually 'thrown out' by a sporting or show business personality after gold coins have been thrown out to children waiting below.
Originally a match between Warwickshire and Leicestershire lads, it now involves hundreds of players of all ages and lasts for approximately 2 hours.
Visit YouTube for 2010 footage - https://www.youtube.com/watch?v=0rqTcqGUKOc
Atherstone Ball Game 2010 - photo from Jim Jarvis, Chief Photographer, Nuneaton News
Last updated Tuesday, 11th July 2017
Was this information useful?