Atherstone town
HMS Atherstone and Freedom March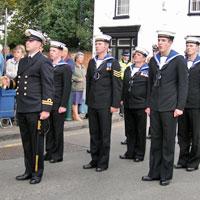 The crew of HMS Atherstone used a centuries old tradition to march through the streets of the town on 29th September accompanied by the Royal Marines Band - Devonport. The crew received the Freedom of the Borough in 1996 - an honour, which used to bring privileges in years gone by but which nowadays is more of an honorary title. 'Freedom of Entry' is reserved for units of the armed forces, allowing the Ship's Company of HMS Atherstone to enter the Borough and march through its streets ''Bayonets Fixed, Swords Drawn, Colours Flying, Drums Beating and Bands Playing."
Watch the Freedom March on YouTube
HMS Atherstone is a "Hunt " Class Mine Counter Measures Vessel (MCMV)and the tenth to be built for the Royal Navy. She takes her name from the Atherstone Hunt but has enjoyed a long association both with the Borough and the town. The crew has even entered a team into the well-known Shrove Tuesday ball game in Atherstone.
HMS Atherstone's last Freedom March was in June 1997. 2005 was selected for the march as it marked the 60th anniversary of VE and VJ Days and the 200th anniversary of the Battle of Trafalgar.The crew left from the Memorial Hall at 1.30pm and followed the route along Long Street, Ratcliffe Street, North Street, Sheepy Road, Market Street and Church Street. The Mayor of North Warwickshire, Councillor Richard Meredith took the
salute from the Guard in front of St Mary's church at 1.45pm.
HMS Atherstone was built by Vosper Thorneycroft and commissioned on the 17th January 1987. HMS Atherstone is a highly complex boat. The Hunt class are not only the largest warships ever to be constructed from glass reinforced plastic but are also the most expensive ships in the fleet per square metre. Hunt class mine sweepers give the Royal Navy a dual capability in the one boat, which makes us virtually unique throughout the world. More information at https://www.royalnavy.mod.uk/
History of HMS Atherstone
The present HMS Atherstone is the third to bear the name. The first was an
810 ton paddle minesweeper built in 1916 which served in the Firth of Forth area until 1918 when she was moved to the Humber. She was paid off in August 1924.
The second HMS Atherstone was the first Type I "Hunt" Class Destroyer of 1000 tons displacement to be built. Laid down in April 1939 by Cammell Laird and Company Limited of Birkenhead she was launched on 12 December 1939 and completed on 23 March 1940.
Last updated Thursday, 13th February 2020
Was this information useful?