Armed Forces
Community Covenant – support for armed forces personnel
Remembering Tam Webster
The North Warwickshire Borough Council flag has been lowered at half mast on 23rd October 2023 to honour Tam Webster, who is a veteran that passed away in the early hours on the 20th October 2023 after a short battle with cancer.
Tam ran our veteran hubs in Atherstone and Dordon for the last few years and was a great ally to his fellow veterans whether they just needed company or had issues that needed to be dealt with and he will be sorely missed by not just the Armed Forces Community, but also the community at large.
During Covid, Tam made sure that no veteran was made to feel alone and helped with welfare calls with his colleagues at Veterans Contact Point, worked with local charities to deliver food parcels and help anyone in the community who needed help to get anything and were not able to leave their home due to vulnerabilities.
Tam was always cheerful, had a smile on his face and would give anyone his last penny if he thought it would help. He was also pivotal in arranging the first ever Armed Forces Day Event that took place earlier this year and we know that he will be sorely missed by all that knew him.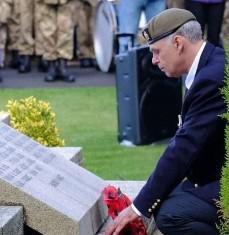 ---
Under the Warwickshire, Coventry and Solihull Community Covenant, organisations across the region are working together to provide services and assistance to armed forces personnel and their families.
The Armed Forces Community Covenant was signed in Warwick on Saturday 30 June, Armed Forces Day, by representatives of the various agencies who are committed to helping present and former armed services personnel.
Aims of the Armed Forces Community Covenant in North Warwickshire
To encourage local communities and the armed forces community to provide each other with support.
To promote awareness amongst communities of the issues affecting the armed forces in the Borough.
To recognise and remember the sacrifices made by the armed forces community.
To encourage activities which help integrate the armed forces community into local life.
Information about how the Armed Forces Covenant sets the tone for what happens locally is available on the GOV.UK website.
Armed Forces Covenant Fund Trust
The Covenant Fund was launched in 2015, and our previous programmes have included support for ex-service personnel in the criminal justice system, the Veterans' Gateway and supporting serving families encountering difficult periods through Families in Stress programme. We have also worked with Local Government, and given grants to support their delivery of the Armed Forces Covenant locally.
For the first 3 years, the Covenant Fund was based within the Ministry of Defence, and in April 2018, following a decision that it should become independent, it moved to the Armed Forces Covenant Fund Trust.
The Armed Forces Covenant is a promise by the nation ensuring that those who serve or who have served in the armed forces, and their families, are treated fairly.
The Armed Forces Covenant Fund Trust makes grants to support members of the Armed Forces community.
The Armed Forces Covenant Fund has 4 broad funding themes:
removing barriers to family life;
extra support after service for those that need help;
measures to integrate military and civilian communities and allow the armed forces community to participate as citizens;
non-core healthcare services for veterans
For more information on current funding opportunities please visit the Armed Forces Covenant Fund website : https://covenantfund.org.uk/
Service, ex-service and families support
Armed Forces Community Covenant website
Following extensive revision, the Armed Forces Community Covenant website was re-launched in February 2016.
It is now better focused for those who use smartphones to get their information. It also includes more information about the Armed Forces Community Covenant Partnership and its work along with details of many more support agencies and ways of getting advice, information and support.
The website can be found at https://www.warwickshire.gov.uk/aboutarmedforcescovenant

National Insurance Credit
Up to 20,000 armed forces, spouses may be eligible for a new National Insurance credit if they have previously joined their partners on an overseas posting, ensuring that they don't miss out on their State Pension
https://www.gov.uk/government/news/dwp-announces-extra-support-for-armed-forces-spouses-and-civil-partners-to-help-protect-their-state-pension
Privacy Policy
See our Privacy Policy
Last updated Tuesday, 24th October 2023
Was this information useful?