Green bin collections
Garden Waste Collections
If you would like your garden waste bin(s) emptied you will need to sign up to our garden waste service. See Frequently Asked Questions and Terms and Conditions.
Garden waste collections cost £40 a year per bin, regardless of when you sign up, for fortnightly collections from April 2021 to the end of March 2022.
We do not offer any discounts for any reason, including late subscribers, benefits claimants, multiple bin subscriptions or infrequent collections (e.g. if you don't fill the bin every two weeks).
PLEASE READ When signing up, please make sure you wait until you are re-directed, after payment, to our online form where you will be given a reference number starting with GBC and a confirmation email will be sent if you have provided an email address. If you are not re-directed or do not receive an email confirmation, please check your online banking to see if a payment has been taken. If no payment has been taken, please apply again or ring our Contact Centre on 01827715341.
Sign up for Green Bin Collections for 2021/22
After you sign up we will send you a Permit sticker to put on your bin. Your sticker should arrive within 10 working days of payment. Once this has been received please stick this on the back of your GREEN bin below the handle, so that the crews can see it when they come to do the collections. Please then put your stickered bin out on your normal collection day before 6.30am.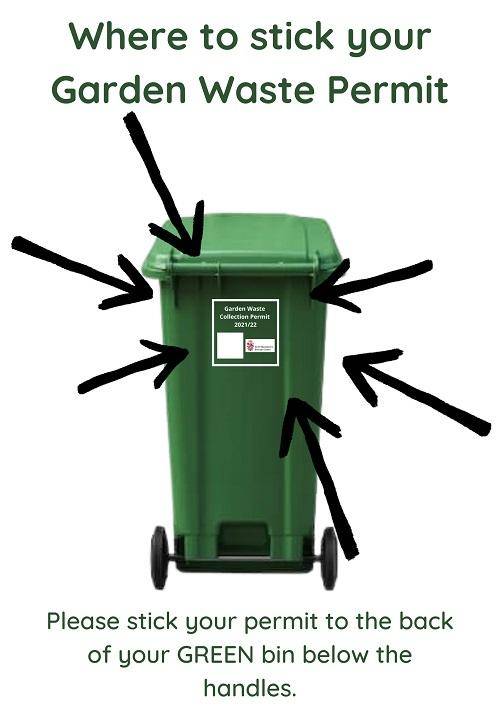 If you can't afford to sign up, you could:
Share the service with your neighbour - one of you will need to subscribe online and then agree to share the costs between yourselves.
Start home composting which is a great alternative that is low-cost and also great for the environment and your garden.
Take your garden waste to a local household waste recycling centre (tip).
Read our full terms and conditions.
Last updated Tuesday, 24th August 2021
Was this information useful?